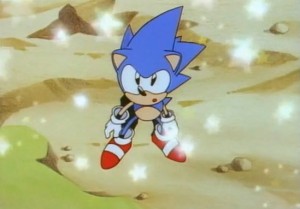 Next month, the re-release of Sonic the Hedgehog CD will be in our digital hands. Available for just about everything (except for Nintendo users…yes, we understand your pain), this will certainly be the definitive release of the game. A choice of soundtracks, unlockable "Tails,"…how could you not want it? I know we'll have plenty of time to gush over Christian Whitehead once it's released, so for right now we just have to settle for what the Internet has given us today: courtesy of xbox360achievements.org, we now are able to see just what is in store to get that perfect gamer score. If you want to stay in the dark as to what the achievements are, turn back now.
88 Miles per Hour – 5G
Travel through time

Just one hug is enough – 5G
Get a hug from Amy

Paradise Found – 5G
Complete a zone in the Good Future

Take the High Road – 10G
Pass the upper Signpost in Collision Chaos Zone 2

King of the Rings – 10G
Collect 200 Rings

Statue Saviour – 10G
Find the angel statue in Wacky Workbench

Heavy Metal – 15G
Defeat Metal Sonic without getting hurt

All Stages Clear! – 15G
Finish the game

Treasure Hunter – 20G
Collect all the Time Stones

Dr. Eggman Got Served – 30G
Destroy Dr. Eggman's final machine

Just in Time! – 35G
Complete the Time Attack mode in under 25 minutes

Saviour of the Planet – 40G
Destroy all the robot teleporters and Metal Sonic holograms in the past
Who doesn't love Back to the Future references? And I hope you remember where that statue is, folks. Just for the record, it's already been confirmed by the Taxman himself that you can't take the easy way out with that last achievement. See, if you collect all seven Time Stones in a standard playthrough, if you go back to the past Eggman's Machine is destroyed automatically, no searching necessary. But to "Save The Planet," you have to destroy them yourself, which means if you want all seven Time Stones as well, you have to wait to get that last one in Metallic Madness Zone 2. Forcing people to 100 percent the game for their illustrious gamerscore? Tax, you clever man.
The game comes out in December. Which day, we still don't know. If you want to obsessively check every digital outlet for a sign of it, go ahead. We won't judge.