The hits keep on coming. If you're to find yourself in the most frightful of situations, you may find yourself hearing YouTube's MaxieDaMan's mix of Carnival Night with the unexplored haunted mansion occupied with creeps, ghoulies and the ever unsettling, yet complimentary harpsichord under the title of The Haunted Carnival.
Sonic and the Retro Crew would like to remind all young ones to stay safe this Halloween. Be sure to read the list after the jump!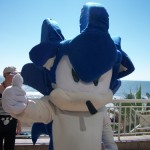 Don't fall for Eggman's traps. If you get stuck, hit reset.
Look up, down and all around before crossing streets.
If you find any pumpkins, please give them to small Chao: they are constantly in search of suitable hats.
Make sure people can see you: run to the nearest lamppost.
Look out for all those Eggman's Robots!
Should you forget your past, forget about finding dead girls. Just justify your losses by shooting everything in sight in order to seek the truth.
If dressing up as the werehog, be careful: your night will be repetetive and lackluster.
Avoid opening animal prisons you aren't familiar with; they could contain ghosts. Make sure you know where light switches are as a precaution.
If a ghost tries to approach you, ask it a question. It will disappear.
Much like sharks, the correct way to defeat a ghost is to punch it in the face.
Its stupid, stupid ghostface.
Be a ghostface killer.
HAPPY HALLOWEEN!