This announcement isn't exactly out of the blue, what with the rumors of a collector's edition for Sonic Generations floating out there for quite a while. There have been listings in various gaming retailers, but some thought it might be nothing more than the Casino Night DLC packaged from the get-go. For those who were fearing the worst, they have been more than pleasantly surprised to find that isn't the case at all. Not since Sonic Adventure 2 has a Sonic the Hedgehog title received the royal treatment, and as many consider this game a return to form, can we blame Sega for being excited and doing this? Not at all!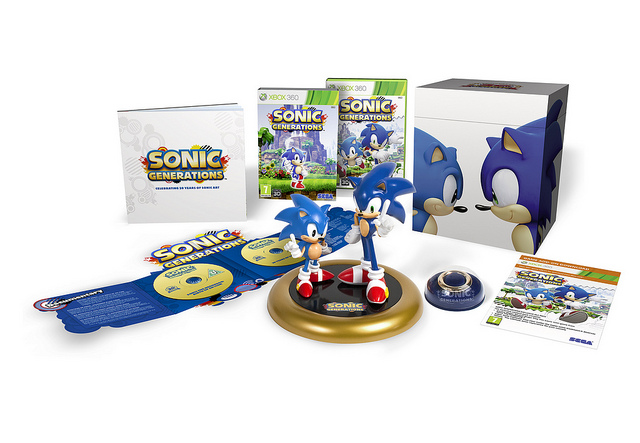 You do have what everyone expected there to be – a code to redeem the downloadable content for free. But the other content that's hiding out in that oversized box adorned with the two Sonic's…that's where things get intense. Hiding out are a pieces of physical swag that will surely start adorning the desks and shelves of many a Sonic fan, the most prominent of those being a statue with both Classic and Modern Sonic, fingers ready to waggle if they were more than a statue. There is also a commemorative numbered "Gold Ring," which hopefully doesn't disappear the moment you touch it.
The content you can't see in the display picture is what should interest you the most, however. We do get yet another "Best Of" music CD that will surely cover the 20 years of Sonic music the only way a single CD can. The second disc looks to be far more interesting: a never-before-seen documentary on DVD called History of Sonic: Birth of an Icon. With interviews from who knows how many people, it will hopefully tell the story of Sonic in a way not even the GameTap documentary could successfully accomplish. The details haven't been revealed, but it's something to look out for.
But the cream of the crop? It has to be a mysterious "20 Years of Sonic Art" book said to contain designs and sketches from the last 20 years of Sonic the Hedgehog, including those never before seen. Could we finally be getting concept art for "Tails" and Knuckles? Or maybe even seeing more from the hand of Ohshima connected to the first game? We won't know until November, but let your imagination run wild.
Of course, if you're an American reader, you're going to have to just sit and be jealous, as right now it's only showing up in Europe and Australia. So if you want to get that deluxe package, you may be forced to import and deal with PAL. Maybe something else will show up in the United States? Well, that's what I'll tell myself as I cry myself to sleep thinking about that artbook…
[Source: Sega.com Blog]