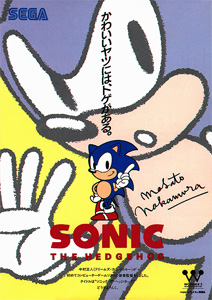 With every new piece of information about Sonic Generations coming out, and the announcement and subsequent releases of the "Best Of" soundtracks to Sonic Adventure, Adventure 2, and Sonic Heroes, there has been one announcement that has gone silent since it's initial reveal. I am talking, of course, about the first official release of the soundtracks to Sonic the Hedgehog and Sonic the Hedgehog 2.
Entirely composed by DREAMS COME TRUE frontman Masato Nakamura, the tracks have never been part of an official release through any record label, even though they were from one of the biggest musical acts in Japan. This injustice will finally cease on October 19th, 2011 when the Sonic the Hedgehog 1&2 Soundtrack is finally coming out. And with the style it always deserved.
Contained in not one, not two, but three jam-packed discs, just about every single song found in the game will be represented, along with the demos to both games. I know the original article on this site went into just how awesome that is, but it is indeed awesome. These are tracks that haven't been heard by the public in any capacity, sitting in the vaults of DREAMS COME TRUE waiting to come out. And for those completionists, the vocal version of the Sonic 2 ending theme SWEET SWEET SWEET will be there. Not just both the English and Japanese versions, but the remixed version done by Akon for the less-than-stellar Sonic the Hedgehog 2006.
All in all, there are expected to be 88 tracks, full of the classic musical stylings from the first two games in the series. Sure, it may be ¥ 3,150, or just about $41, but it will be worth every penny. This is not just some afterthought of a soundtrack release, this is the real deal. The release we all have been waiting for. Something that has been 20 years in the making, even though it should have been there from the start. Perhaps waiting makes it sweeter. Though it would be nice if we received a domestic release…and not just on iTunes.
[Source: Amazon.co.jp and DCT garden]