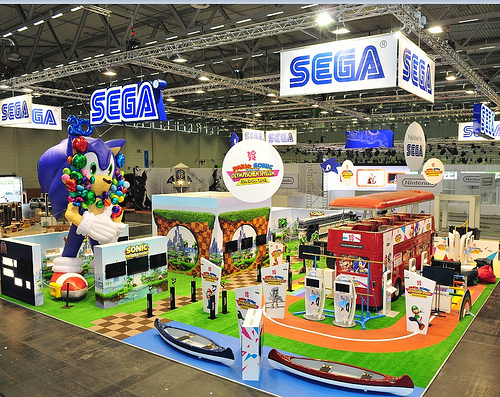 Of course we didn't forget about Gamescom currently going on in Germany, sporting new demos for all three versions of Sonic Generations as well as a new demo for Mario and Sonic's latest (friendly) battle to the death.
Courtesy of forum member TimmiT, we have a few more details about changes in the games along with extra gameplay videos including a full run of Modern Sonic's City Escape. With all the tasty morsels of media beginning to spill, we advise not watching the videos if you want to keep the gameplay unspoiled.
SONIC GENERATIONS (360, PS3)
The demo on hand was the most expansive one yet, featuring both styles of Green Hill Zone and City Escape. It even included a shiny new title screen (seen above, courtesy of Sonic Scene) with both Sonics posing out of the logo with their fingers waggling. While TimmiT was unable to give the Green Hill Zone levels a try, he gave plenty of attention to both City Escape stages. One of things he noted for the Classic level, and certainly backed up by plenty of video since E3, was that as the GUN truck rampages and destroys sections of the level, new paths open up for Sonic to take, keeping the notion of multiple paths in classic stages alive and running.
As for modern Sonic, he took issue that the level's current weakness is the truck chase at the end. While exciting that the truck includes saw blades this time, the whole scenario amounted to just holding down the boost button and maybe sidestepping a few times to avoid the saws. In other words, it suffers from typical Modern Sonic chase syndrome as seen in Unleashed and Colors. The level itself does begin similarly to its original counterpart, but soon breaks off in a completely new direction, and if you listen closely in the video courtesy of Gaming Clerks, you can even hear that Escape from the City had a few additional new lyrics, allegedly from Sonic's Adventure series theme It Doesn't Matter, added just before the loop point.
However, problems are still present in the PlayStation 3 version of the demo, where it feels that there is a latency issue between pressing a button and Sonic responding on screen especially when compared to how responsive the game is on the Xbox 360. We can only hope this is resolved before the game launches.
As a final note while waiting for his turn, TimmiT noticed that Omachao is now present in Green Hill's stages, serving as the help system for the game.
Please, try to keep your latent anger sustained.
Sonic Generations (3DS)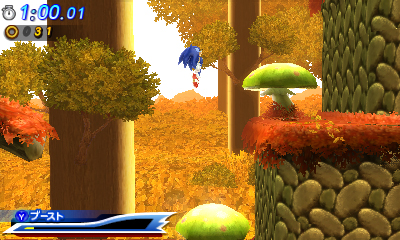 Present at the show after a bit more time in the oven, the 3DS demo included the Green Hill stages and Launch Base boss from the E3 demo, but further included Mushroom Hill's stages for both Classic and Modern Sonic.
Compared to the breadth of information the console version generated, the 3DS is meager in comparison. TimmiT noted that for the most part, Classic Sonic's version of Mushroom Hill is a 1:1 duplication of the original Mushroom Hill Act 1. A sign of laziness or an attempt to better understand the original level design by DIMPS? You decide.
However, TimmiT noted that Classic Sonic's gameplay felt much more refined from DIMPS' last endeavor in Sonic The Hedgehog 4: Episode 1, noting that Sonic didn't come to an immediate halt if the directional button was let go and that he doesn't uncurl when going airborne rolling, which should make the purists out there a little happier. You can check out gameplay by N-Life of the stage down below.
As for Modern Sonic, I'll let the man speak for himself:
"It's Sonic Rush. Sonic Rush is a game I enjoy more when replaying the stages so I can find the alternate paths (which this stage seemed to have plenty.) If you like Sonic Rush, you'll like Modern Sonic in this game."
Not surprising in the least, but always good to know.
Mario and Sonic at the London 2012 Olympic Games (Wii, 3DS)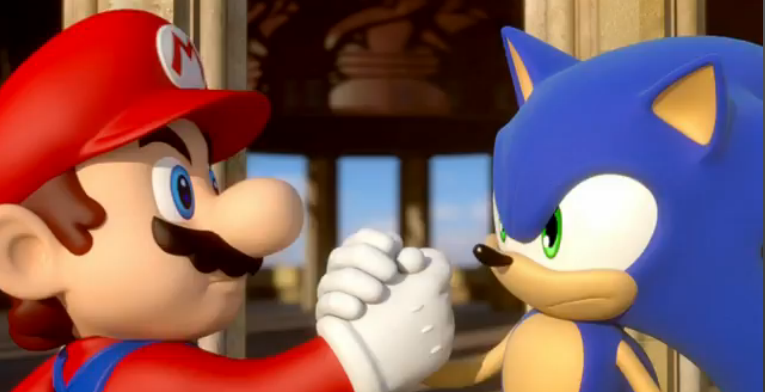 (phew) That title alone is enough for a 100-meter dash. We admittedly haven't been giving this one much love here despite the franchise being a runaway hit for both Sega and Nintendo. And while both companies try to spin it off that the two are friends who love competition, the facade melts away in a torrent of rage 20 years stocked up.
Or so Takashi Iizuka's view of older fans would imply that thought. (That is called a cheap plug, folks.)
Regardless, the two mascots are bringing their teams under the shadow of Big Ben to once again determine who the most athletic is in a celebration several millennia young. Joining classic Olympic events of track and field events include badminton, synchronized swimming and equestrian sports.
But in usual Mario and Sonic fashion, the boring realistic events give way to whimsical dream events. While the discus event requires flinging discs as far as you can in reality, a dream event discus event has the four competitor jump on top of the discs and soar through the environs of Sonic Adventure's Windy Hill stage, soaring through ruins, tornadoes and the wild blue yonder collecting rings and slamming into competitors.
The trailer released for Gamescom certainly implies we'll see more dream locales such as satellites in space via Super Mario Galaxy, the bustling skyscraper scape of Sonic Heroes' Grand Metropolis, and even the odd coloring book nature of Yoshi's Story.
With all three titles set to come out by November globally, the time is ticking down until Sega hits the finish line and gold presses all these titles for your consumption. Thanks to Gamescom, how do you all feel about what you've seen so far?