We've been taking a look at the Japanese PSN demo since it dropped early this morning and been tearing it to bits. We've found quite a bit inside (c'mon, Sonic Team, it's not exactly a secret that we do this) and have goods to share. A warning that there are massive spoilers under this cut. Don't read if you care about preserving such things.
Level List and Boss List
We've recovered the title cards for the game inside the demo, confirming our earlier level list: Green Hill, Chemical Plant, Sky Sanctuary, Speed Highway, City Escape, Seaside Hill, Crisis City, Rooftop Run, and Planet Wisp are noted to be in the game, with Casino Night Zone being available for DLC download.
Music
We've found quite a bit of music scattered throughout the demo; most exciting to me personally is a remix of the Sonic Heroes menu theme, because let's be honest–that song is amazing. To give you a taste of what's been found so far, we have ten tracks available for download:
Title Screen
a new mix of the menu from Sonic Heroes (probably the actual real game's menu theme)
Green Hill Classic
Invincible Classic
Green Hill Modern
Green Hill Modern/Boosting
Invincible Modern
Level Clear
Drowning
1-Up
The music is ripped at 320kbps, CBR. You can download copies either off MediaFire, or failing that, our server.
Miscellaneous
In the internal code, modern sonic is refered to as GenericSonic and classic is ClassicSonic. This really says a lot.
And since you've been good little readers and gone through all this, a parting present: some official Sonic Generations wallpaper. Enjoy!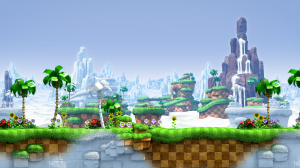 [Edit: I spoke with representatives from Sega after this article was published–it's not surprising it caught their attention. While in conversation, it was revealed that some of the things we showed were in fact works in progress and not final products. As a result, we're pulling these things as we feel they are basically rumor. Since we had prior confirmation from another source on the level list, we're keeping it as accurate.]