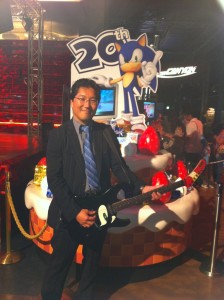 So America got Sonic Boom during E3, and the U.K. is getting Summer of Sonic this weekend. But what about Japan, the country where the original Sonic the Hedgehog was conceptualized and produced? Well, this past weekend the Sega Joypolis arcade in Tokyo, Japan held their "Sonic the Hedgehog 20th Birthday Party Anniversary Exhibition." While the Sonic display connected to it opened on the 11th of June, last Saturday was the big celebration, going full out for the 100 invited guests along with whoever else could fit through the door at the last minute. These diehard Japanese fans were not disappointed, able to see Naka, Ohshima and Iizuka live on stage. Sure, there wasn't a 40 minute Crush 40 extravaganza, but Senoue was more then willing to show his smiling mug, and the Director of Sonic Generations was also on hand. After all, wasn't the announcement of Sonic's latest game that got this whole 20th celebration rolling?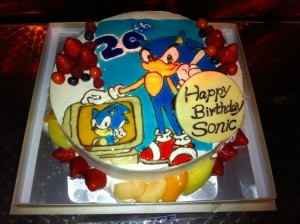 As can be expected, a playable demo of Green Hill from Generations was once again on display, but the event did reveal a few choice pieces of information. In addition to the Sonic 1 & 2 Soundtrack announcement, Sega revealed that an iPhone/Touch App called "Sonic 20th Anniversary" will be available free for a limited time starting on Sonic's birthday, June 23rd. Among such app staples as news feeds and phone wallpaper, a special game called Sonic the Sketch Hog will be included. Looking quite similar to an earlier Japanese-exclusive cellphone game called Sonic Freehand, the miniture sketchs of Sonic that litter the original Japanese manuals come to life. Whether or not the game will be exactly the same but for the iPhone is unknown at this point, but either way should prove to be a fun diversion on the go.
At the end of the festivities, the crowd chanted "Happy Birthday Sonic," the vocals forever preserved and meant to be included in Sonic Generations, just as the Americans did at Sonic Boom. Does this mean we'll get plenty of European accents flooding the game this weekend? Only Kevin Eva knows for sure.
While the party may be over, the celebration at Joypolis is still in full swing, the Sonic display remaining until July 10th. So if you happen to be in Japan, swing by, experience Sonic Generations, play some older Sonic games, and look at all the sweet swag you're not allowed to take home. Like the original version of this picture. Heck, the marker color's still look as fresh as the day Ohshima drew them.
The following video is in French, yes. But it's the best footage so far of the entire Sonic set up at Joypolis, so give it a whirl. And if you want to see more photos of the birthday event and can't get enough of Naka and Ohshima posing, click here.
[Source – Game Watch and XboxGen]