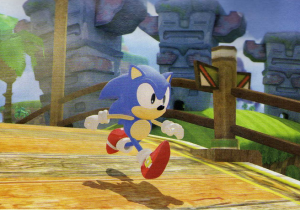 [Update: It's been brought to my attention that PC may not mean Personal Computer, but may stand for Nintendo's new system codename "Project Cafe." Stay tuned…]
Sonic's 20th anniversary flagship title may soon be coming to a 3DS and PC near you.
An earnings report from Sega of Japan certainly claims as much and supports the rumors of a Generations 3DS release as seen on a GameStop pre-order list leaked to the Internet.
Of course, there's a small chance this could be a simple typo (they happen), but very unlikely.
Much like Sonic Colo(u)rs, the console version was paired with a portable release, though it handled differently from its console counterpart in that instead of focusing on Unleashed-style 2D/3D gameplay, it stuck to the more tried and true Sonic Rush formula on the Nintendo DS. It remains to be seen if a 3DS release would also follow this path.
A PC version would no doubt be extremely appreciated by the modding community, which is making strides in other Sonic games like the old Sonic and Knuckles Collection or the more recent Sonic Adventure DX. But as in the past, the PC version could also fall quietly into the night, as much was the case for the PC port of Sonic The Hedgehog 2006.
A shame, that one. It would have been nice to see fans attempt to clean up that mess.
[Via Andriasang]