So there I was, having a fun little romp through the Internet. Looking at a little known site called Reddit. You know, one of those "user submitted content" sites that are on the pulse of the world. And, as you can imagine, occasionally there's something about Sonic the Hedgehog. Sometimes its new, sometimes its old, sometimes I wish I had never seen it. But this day…THIS day…well, there was a topic about a water cooler. And bubbles. So you can already guess where I'm going with this.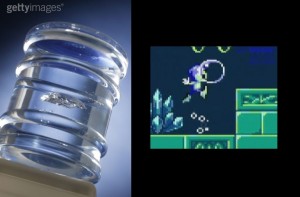 Ah, the underwater level. But this is not a fun romp through the underwater mazes Dr. Eggman has used. No, this is about…the song. The one that frightens the soul of mankind.

Sure, maybe now you have every air bubble location memorized as you try to blast through Labyrinth Zone or Aquatic Ruin, but there was a time not that long ago when you had no idea where you were going. Heck, you may have jumped in the water not even thinking about needing to breathe. After all, Mario didn't need to. He could swim for as long as that timer counted. But Sonic…he was a different story.
Go on. Listen to it again. You know you want to.
Oh wait, no you don't. Why would you? Especially when it is just alone. At least when you're playing the game, you know you can escape if you find one of those bubbles of safety. But here? The music goes on. And on. That high pitched wail with its striking notes pounding into you…over and over again…the longest ten seconds of anyone's life.
Through Sonic the Hedgehog, Sonic 2 and Sonic 3, that music followed Sonic wherever he went. Even if there was the briefest sign of liquid, the chills would start running down your spine. Your hands would start to tremble. You would begin praying to the gods of Sega that, this time, they would guide you safely over the top route of Aquatic Ruin. But then a stray arrow would come your way and you'd fall right to the bottom of the screen. Maybe that's why Sonic & Knuckles didn't have any water levels…it was a reward for turning our hair gray prematurely.
But you know what's funny? In Sonic the Hedgehog CD, drowning is an almost calming experience. All you get is this strange sound accompanying that floating countdown. At first, you may not even realize you're in danger of drowning. And then, when it happens, its more a shock that you can't continue looking for that blasted Metal Sonic projector than anything involving the death.
After Sonic & Knuckles, though…the fear of drowning just doesn't have the same impact as it used to. Maybe because, until Sonic Colors, it just wasn't happening in the main titles. Sure, you could technically drown in Sonic Adventure. But that could only happen…what, in a Chao Garden? And the pool next to Emerald Coast. How often are you going to just stand in that pool and wait for the kiss of death? And if you do…
It may be the same tune. But really. That full orchestra blasting away doesn't have the same eerie, dramatic quality those 16-bit tones did. In Sonic 1, all I can think of is the emptiness of drowning while a robot fish laughs at me. In Sonic Adventure, I imagine the Tokyo Symphony Orchestra watching as I struggle to get out of a pool because I forgot how to jump. Even Sonic Colors uses an orchestra to signal death, and yet I don't feel the urge to hide under the bed or hit the reset button as quickly as possible.
I know the handheld titles have had their share of water levels and deaths related to it. But…um…
…what is going on there? That's not going to make me soil myself. Heck, even Sonic Pocket Adventure had a better version of that song, even though it sounds way too happy. I'm supposed to be dying, not skipping down a street. Maybe they did a bit better with Sonic Ru–
oh god oh god oh god someone hold me
Maybe more frightening than listening to this song over and over again is knowing there are those out there who have not only enjoyed the song, but took it upon themselves to create remixes for it. That requires thinking about the song…analyzing the song…the image of Sonic falling off the screen over and over again just filling your mind…
Take for example this version done by someone who calls themselves "SFtheWolf." Here, he takes the song and tries to ramp it up and make it way too dramatic. Or this remix done by troysson81 who wants you to relate drowning in Hydrocity to being stabbed repeatedly. And really, what talk about the drowning music would be complete without at least referencing these two remixes that are older than time itself?
Going back to the topic that inspired this, I find it amusing that so many people in there have used the drowning music as an alarm to wake up, their dreams immediately turning into a recreation of those 16-bit terrors. Sure, it'll wake you up. But what about the psychological repercussions? That's almost as bad as if you were forced to play the first game in Europe, that PAL conversion make the song even longer…
At least Mario fans finally understood the importance of breathing when Super Mario 64 came out, though they got off easy. Coins give Mario air? Our rings did nothing for the air-deprived hedgehog! Maybe one day they will understand our pain…
BONUS SONIC 4 JOKE: Click here for a dramatic retelling of the development for the game!