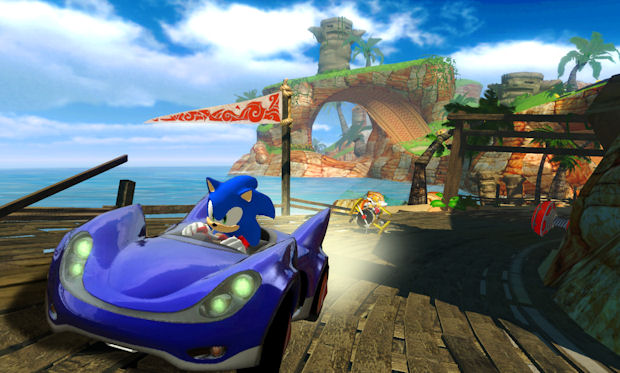 We've recently reported that Sonic and Sega All-Stars Racing was spotted out in the wild in arcades, but details on the game itself were rather scarce. Thanks to forum member NiktheGreek, we have a better understanding of how much the game was changed.
And from the looks of it, the arcade version had a few parts removed from under its hood.
Anyhow! ASR Arcade. What's there to know? Well, the game is roughly 85% done (should be ready by March), and has been tweaked slightly and cut down for the arcade. Characters not included are Knuckles, Big, Zobio and Zobiko, Alex Kidd, Opa-Opa, Mobo and Robo, and the Chu Chu Rocket lot (also the console exclusives, duh). Courses that were definitely cut include Ocean Ruin, Roulette Road, Thunder Deck, Icicle Valley, Lava Lair, Treetops, Monkey Target, Rokkaku Hill, Rocky-Coaster, Sewer Scrapes and Deadly Route. Also, none of the DLC stuff made it in.

All in all then, the game has 13 racers and 13 courses, assuming that I've got all the cuts correct.

Two reasons were given for these cuts. Firstly, the number of characters had to be reduced for ease of browsing within the time limit. This reason also applies to the courses, but also there was a drive to reduce drift dependency (the Super Monkey Ball courses were specifically cited here).

Grand Prix mode takes place over three courses: Sunshine Tour, Turbine Loop and Sandy Drifts. The latter was chosen for its difficulty…

Items seem mostly present and correct, though I didn't see any Superstar attacks. They can no longer be fired backwards (they tried to implement it, but it didn't work out with the wheel controls), but in a cute touch the item button on your wheel lights up with different colours for each item (red for speed shoes, green for shield, cycles through for the rainbow, etc.). The dynamic cabinet lighting should also reflect gameplay – for example, a player with an incoming attack will have their cabinet flash red.

Graphically, the game doesn't hit the heights of previous Sega Amusements Europe releases, which have used the custom Europa set-up. ASR is running on the relatively weak Ringwide hardware to keep costs down, which also means the frame rate stays down at 30fps. The models mostly look fine too, but Akira and Jacky look a little… shiny.

The game is set up to allow ticket vending, which should greatly increase the game's chances with arcade operators (who vastly prefer redemption to straight-up video games at this point in time). At EAG the game was set to give 20 tickets for the winner and 5 for runners up. There's a ticket multiplier in effect for multiplayer races – the winner of an 8 player race would get over 100 tickets.

Other points of interest:

– Ryo Hazuki was left in to avoid fan backlash, and provide a neat secret (the forklift is in!)
– Attract mode song is "Can You Feel the Sunshine?" (this "had to be done")
– It's the first Western development for Ringwide
Although courses and characters were removed, the prospect of cleaning house with tickets in eight player races should make getting the awesome prizes at the ticket booth a breeze for a seasoned racer.