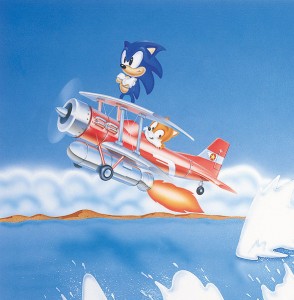 If there's one thing most of you guys know about me, it's that I'm a huge Mad Men geek. At the end of this most recent season, Bobby is taken to Disneyland, and he says this really poignant line: "I don't want to ride an elephant. I want to fly a jet!" Therefore, I guess it's time to not only look back, but open our eyes to the future of Sonic Retro. Yeah, it's time for one of these again: State of the Retro.

I've been thinking about that line a lot lately. 2011 marks ten years that I have been involved in the Sonic community, from my beginnings at a now-defunct but much-nostalgia'd board called Sonic the Hedgehog Area 51 to my current position here at Sonic Retro. Sometimes, it seems the more things change, the more they stay the same. I see so much of the same stuff that inspired me back then: things like Mercury's discovery of unused Sonic 1 special stage code or Tails' PDA hex code in Sonic Colours or that badass HPZ papercraft or the demos and radio skits put on for SAGE. Things that are interesting, fun and all-around awesome, just like the things we were doing back in the day.
However, it seems that for as many good things as we have had this year, we sort of regressed, in a way. If the 2010 State of the Retro was all about overcoming adversity as a group, I'm afraid that as a group we got a little too content and, needing people to overcome, starting to cannibalize ourselves. Sonic the Hedgehog 4: Episode 1 has been the most polarizing thing I've ever seen in all my time here (even moreso than the Sonic Heroes E3 drama or the meltdown of the original SSRG, and that's saying something.) To see people yelling at each other for no real reason other than having differences in opinion and have it blow up to the proportions it did really took a toll on me, because it was so damn pointless. At the end of the day, if you're reading this, you're a Sonic fan. Most of the staff and I like to poke fun at how goofy the Sonic fanbase can be, but at the end of the day, we're all crabs in the same barrel. My bro Gambit introduced me to a new pasttime earlier this year–go to DeviantArt and type in any other thing you can think of into the search bar with Sonic. Amazing and horrifying results will ensue.
Knuckles as Li'l Wayne? The "Mobian Wrestling League"? Sonic humping a bottle of Pepsi? Yep, it's all out there. And as funny as these things can be, the truth behind them eventually hit me: they're actually sincere. It's easy to become bitter and sardonic when we make a place where the discussion isn't really discussion, but people talking AT each other instead of TO each other. These artists didn't really care about how their love of Sonic was expressed–they just did it for the sake of doing it. Contrary to some people's opinions, when I took the steps I did with Sonic 4 discussion, I didn't do it because I didn't like what was being said–I didn't like how people were talking to each other. I didn't like pointless back-and-forths and needless rudeness to people and didn't like that the attitude managed to permeate other parts of the site. I'm all for being blunt–I pretty much shoot from the hip when asked for an opinion–but there's a pretty big gulf in my eyes between being blunt and just being rude.
So, if we can have something of a group resolution for this new year, can we at least agree to not be rude to each other? You don't have to agree with others; in fact, in such a strongly opinionated place as Retro, it's pretty much impossible. However, when we stop trying to "win" arguments, that's when we really win–because we're hearing each other instead of trying to one-up each other. It's amazing what a little common ground and hearing someone out will do.
It's kind of funny, because this whole polarization that's happened is something only recently, and yet has infected our way of thought. For instance, I know there have been a few parties who seem to be interested in making a divide between Sonic Retro and The Sonic Stadium. That's absolutely ridiculous. I'm a Janey-come-lately to the whole "Sonic website" thing compared to most people, and for so many years TSS was the site I idolized and wanted to beat. I did–and still do–look up to them like a big brother. For the first year of this site's existence, my biggest goal was…to get an affiliate link with the site. Ever since that moment, Dreadknux and his crew have been nothing but supportive and total bros. The whole "second only to Sega" tagline on our site originated from an in-joke on our desire to finally beat TSS in traffic, which took years. Moreover, I've had the opportunity to hang out with Dreadknux in-person, and he's an absolutely delightful chap who has been spot-on in his guidance, from then to…literally today (I was not opening a crisps package! I was opening a package that had Sonic the Hedgehog Archives in it, as was recommended to me!) There's plenty of room for both our sites–and everyone else–in this fandom.
Just like there's room for both Retro and TSS, I would like to remind all parties that there is also room for both a fandom and Sega itself, and there isn't some epic struggle–there's people trying to work together. While I'm happy that so many things that have come out of Retro have been well-received by the public, I'm concerned with the trend of people going "OMG BETTER THAN SEGA" or "SEGA SUX LOL." We're all in uncharted territory when it comes to this kind of interaction, but the goal is not to be divisive: it's to work together for a better gaming environment for all of us. However, this requires two things: the fandom needs to stop with the combative attitude, and the company needs to be ready to take the next step towards integrating the fan community. There's a lot of talking heads who praise the entrance of the corporate world into social media, but there's a misconception that such dialogue is ultimately one-way–from those on high to the masses. So much–SO MUCH–can be gained if all parties are truly willing to talk as equals and not act like one is better than the other.
If a new-school fan who loves Sonic Adventure 2 and Heroes for the action, story and gameplay variations was able to sit down and talk to an old-school fan who digs Sonic CD and S3&K for its exploration and platforming, what would she learn? What would he learn?
If a bunch of passionate fans with an obsessive level of detail and almost freakish knowledge of the Sonic series was able to sit down and talk to people with in Sega to help them create the best product possible for all parties, what would he learn? What would she learn?
If a webmaster who came from Sonic CulT and learned from example to separate herself so much from the furry community because heaven knows you don't want to somehow be mistaken for being a furry was able to sit down and talk to a furry, what would he learn?
What did I learn?
I learned that I've been a real jerk for no reason and didn't need to define myself like that.
We're all here because, for whatever reason, we love the Sonic series. When we let dumb things get in between a bunch of people having fun, learning more and making amazing stuff, we all lose. There are those out there who are more interested in disrupting such things, but I learned a very important lesson a few years ago courtesy of an old friend: sometimes, the best thing to do is shut up and keep going on. Over time, I've sometimes forgotten that, but it's my New Year's resolution for this year: to know that haters gonna hate. Pick your battles wisely.
That choice in who you're gonna fight is important, because it's more important to build a good future by destroying the things that can create havoc. And smashing badniks increases the floral varieties in any given area or something. The things that will transform us and make us stronger is just sitting and listening to each other. From there, we're able to collaborate and make things much bigger and badass-er than any of us could do by ourselves.
Sonic 2 HD, the embodiment of this philosophy, is dropping pretty soon–and let me say, haters, that it's gonna blow your mind. Sega Retro has gone from non-existence to nearly 2,000 articles in just eight months. We're tearing up and learning everything we can from games no one was touching a year ago. And, of course, we're still arguing about the best possible Sonic design, but who knows–maybe we can finally come to some sort of consensus this year. We're nearly hitting 100 pages of that discussion, so it'll probably happen. Eventually. Maybe.
The best part? We haven't even shown the big bombs we'll be dropping this year. 😉
So, I've hope you enjoyed this past year of Sonic Retro, and we all look forward to bringing you an even better experience for 2011.