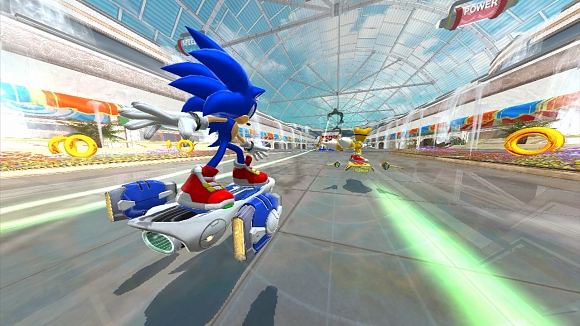 Microsoft's little motion doohickey Kinect came out and with it a slew of titles, including the Sonic-Heroes-on-airboads racer, Sonic Free Riders. Now that the thing has been out just over a week, how has it been doing against the likes of Dance Central and Kinectimals?
Not too good.
With just under half a million Kinect units sold, preliminary numbers via VGChartz show the title is one of the unit's worst sellers at only 18,000 units moved.
Kinect Week One Sales, Americas:

Kinect Adventures – 479,992
Kinect Sports – 142,991
Dance Central – 132, 554
Kinectimals- 98, 303
Your Shape: Fitness Evolved: 61, 338
Fighters Uncaged:31,939
Kinect Joyride: 31,854

Sonic Free Riders: 18, 402

Motion Sports: 16,198
Adrenaline Misfits: 3,602
Dance Masters: 3,459
While VGChartz isn't always completely accurate due to leaving out certain retailers from their data collecting methods, the numbers, which will be as close as we'll ever know with how secretive Microsoft is on figures, show another resounding flop for the franchise.
Would the inclusion of normal controller support be enough to tip sales instead of solely relying on Kinect? Probably. But it's up to Sega to see if it's even worth the effort to do that.