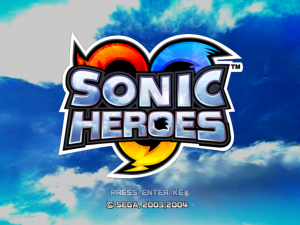 We've all played Sonic Heroes at one point. I'm sure at that same point we all heard the music in the game too! What you may have not known is that more than one Sonic Heroes prototype has surfaced to the net at some point. The differences ranged from minor to relatively major, but one part of the game in particular that recieved some interesting changes were the music. Now if you know me, you know this is totally my thing, and I was pretty excited by some of the changes I heard. Here are three of the tracks I found the most interesting of them all.

1. Ocean Palace [audio:http://music.sonicretro.org/Sonic%20Heroes%20Beta%20(XBox)/Ocean%20Palace.mp3]
This is my favorite of the bunch, taken from the Xbox beta of the game. The song, while still very much recognizable, is totally different from the final version of the tune. What once sounded like standard Jun Senoue fare now sounds much more like what its original composer–Naofumi Hataya–would produce. Very fun and upbeat synths, sliced drum loops (if you listen carefully, you'll notice it's the same one–or at least similar–as the one used in Sonic Unleashed's Savannah Citadel), and a more classic Sonic-y feel in general. The instrumentation is rather similar to the menu music present in the game, which suggests pretty strongly that this is Hataya's original mix of the song before it was decided that Senoue would record guitar and other elements for it. I personally prefer it to the final music, but you may think differently.
2. 2-Player Grand Metropolis [audio:http://music.sonicretro.org/Sonic%20Heroes%20(10.8%20Beta)/City%20Top.mp3]
This is another pretty drastic change from the final, found in the 10.8 proto of the game. While the arrangement itself is pretty consistent with the final game's tune, the instrumentation is radically different from both the final tune and any other song present in Heroes. The song itself was composed by Teruhiko Nakagawa of Sonic Advance fame, so you can definitely hear some stylistic similarities in how it's put together. I'm not sure if I personally prefer this one, but it definitely gives off a different feel, that's for sure!
3. Lost Jungle [audio:http://music.sonicretro.org//Sonic%20Heroes%20Beta%20(XBox)/Lost%20Swamp.mp3]
This alternative version of Lost Jungle was found in the Xbox prototype of the game. When you first listen to this you probably won't hear the difference from the final track, but when you compare them side by side, the changes are pretty drastic! The song is much more ethnic, upbeat and peaceful in nature. You'll hear several flutes and other similar instruments actually carrying a melody, something the final song sorely lacked. It's a pretty stark contrast to all of those really abrasive synths that were present in the final. Much more fitting of the area and far nicer to listen to.
There are other minute differences in some of the beta Heroes tracks, some of which are documented on this page. Check them out if you feel like it! Here's hoping you enjoyed hearing a little bit of what never was.