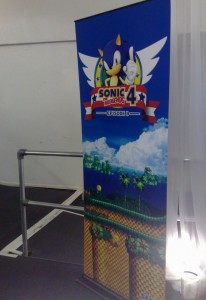 So the game that the vast majority of the SoS-goers were there to play was Sonic 4. Now, a few in the scene have already played it thanks to the leak but I'm willing to bet that most haven't due to the J-Tag requirement, so for the vast majority at the show it was their first playthrough, it was certainly mine. And after the wait in the queue, the demo pods came within reach and I finally got to see if the internet butthurt over this simple downloadable video game had been warranted.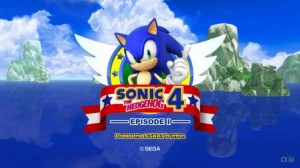 Again, this was the E3 Demo, like the 2 Colours games. It's funny to think that had it not been for the leak, this would have been released commercially by now. And to be honest this showed somewhat in the game – it looks great, runs at a beautifully smooth and solid 60fps in a way no console Sonic title has in YEARS and from a technical aspect there's absolutely no flaws in it. So now we get down to the point – what was it like? Well, seeing as the line for the game was so long (like an hour or two, much like Colours) I thought it would take the piss somewhat to play all 3 acts and the boss of Splash Hill which were available, so I just played 1 and 3 instead, the first consciously not using the homing attack, and the second using it, just to compare how the game plays either way. I came prepared, folks. =P This does mean that I can take no position at all on the minecart, so this will be my last mention of it.
I won't bother boring you with details about music (we could barely hear it over the show's sound system, plus it's on the public web anyway) or graphics (also on the public web), as we know that this E3 demo may well have changes in those departments anyway before the final release (or may not! Who knows) and just focus in depth on the one thing that really matters here – the gameplay.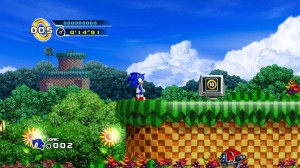 First I played Splash Hill 1, without using the homing attack. Honestly? While it's not like playing S1/2/3/K (but let's be honest here, people. NOTHING has played quite like them since 1994), it's still a solid control setup. Sonic does what you want, where you want, and my only small criticism I noted was the acceleration is a bit slow (it's Rush's, essentially). Apart from that, I have zero issues with the physics engine. While having speed boosters, the level (and Splash Hill 3, while I'm at it) did not feel packed to the gills with them at all. The level has multiple paths, some nice effects, and is FUN to play, something a lot of people are missing.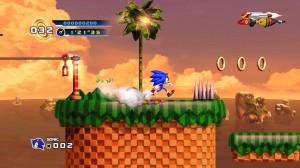 Then we get to Splash Hill 3, where I actually did use the Homing Attack a lot – and you know what? I actually ended up playing worse for it. The comments from some (more notably those who haven't actually played the game, only watched video) about "mindlessly spamming A" really don't gel – if you try this (as I did in a few sections), more often than not you'll end up getting hit by something. The Homing Attack works well if you put some thought into how to use it, but doesn't if you're just acting like A is a Turbo button on a 3rd party joypad. Yes, there's a few sections in the game where it's much easier to progress by homing attacking a chain of Bubbles rather than bouncing over them – but 1, it's still doable, and 2 – complaining about having to use a move is like complaining that you have to use the brakes in a racing game, or heal potions in an RPG, or vehicles in an FPS – they're there to make a title more fun and to offer some choice. What's the problem, honestly? Sonic 1, 2, and 3K all introduced a new move, 4 is no different (yes, I know, it's been used in many other titles. And yes, it was designed for 3D games so enemies were easier to home in on. So? It doesn't make Homing Attack any less fun in ROM hacks like Megamix).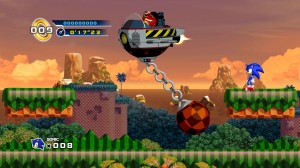 At this point I had to relinquish the controller to the next person in line, seeing how long the line was. So here is what I like to think is a fair conclusion of Sonic 4 – it's not Sonic 3 & Knuckles. This does not mean it's a bad game by any means. I thoroughly enjoyed it, in many ways it was like playing the originals all over again, a breath of fresh air the franchise has needed for a long time. With this and Colours, Sega has a solid lineup for the Christmas period, and with more episodes of Sonic 4 to come (and hopefully, a disc release of all of them together once they're all done, hint hint Sega), it doesn't look like good plain FUN Sonic titles are going anywhere any time soon. As someone who's managed to cling on to the franchise despite titles like Sonic 06 and Shadow the Hedgehog, I thoroughly welcome this. At the end of the day, the only reason anyone is REALLY bitching about Sonic 4 is because of the title.
I now await the people who haven't so much as pressed Start on the title screen of Sonic 4, and those who've pirated the pre-final (and pre-tweaks!) Xbox 360 Partnernet build, telling me why I'm so wrong. =P