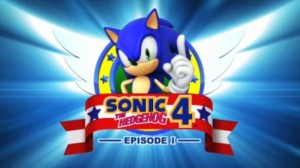 At least as we know it.
The website for Official Nintendo Monthly put up a brand new preview for Sonic 4: Episode 1, which has been delayed to later this year for some fine tuning according to Sega.
While the preview contains very little in terms of new media (more pictures of Splash Hill Zone), the author's comments about the Special Stages posted below might attract some attention from sore fans.
A Special Surprise

The Special Stage is a fantastic update of the spinny, psychedelic one from the first Sonic game. In the original, you had to guide Sonic through a maze of coloured stones to reach a Chaos Emerald. It's exactly the same here, with the same lovely sound effect going off every time Sonic bumps into one of the colour-changing gems, and the same familiar chime when he picks up the Emerald at the end of the stage.

There are a couple of additions this time though. There are also ring gates that you can't get past unless you've collected enough rings, so if you haven't managed it you need to go back and get more. What's more, the Special Stages also have motion control, so you'll be tilting Sonic left and right with the Remote.

I Second That Motion

This is the only time you'll be tilting the Remote in the game, and it works. The Special Stages look superb and the addition of tilting controls doesn't seem to detract from the experience whatsoever. And yes, the rest of the main game is very much the traditional D-pad and buttons setup from previous Sonic games.
This at least indicates that the infamous mine cart stage has been moved over to the iPhone version, in line with the statement from Sega community relations rep and Retro poster RubyEclipse on GameSpot's On The Spot that it will be receiving two exclusive stages that take advantage of the phone's touch and tilt capabilities.
The preview itself is fairly positive, with constant remarks on how the game has a similar feel to the Megadrive era of Sonic, simple controls and momentum required to build speed. You can check it out here.
[Via Sonic Stadium]