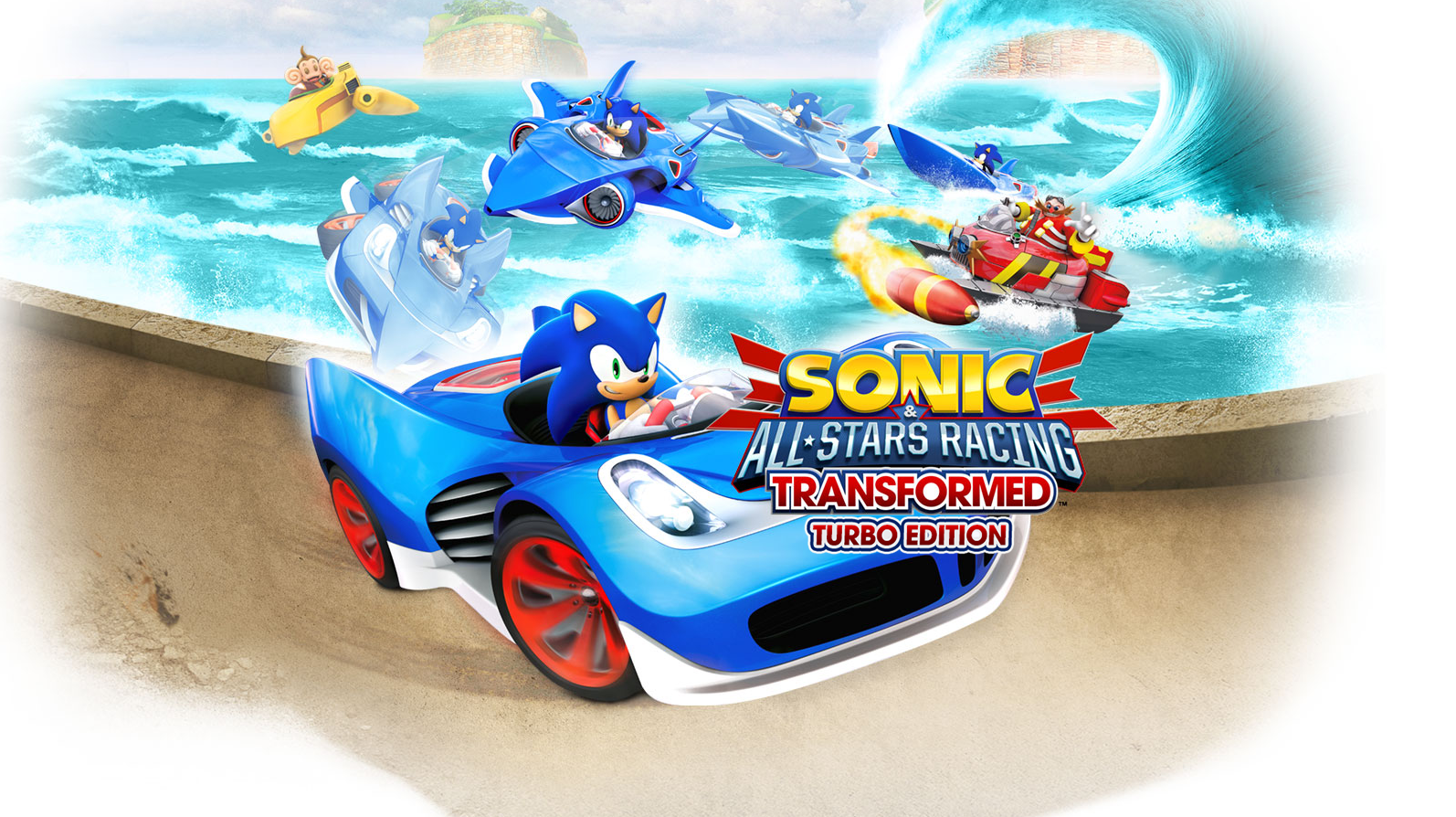 UPDATE: Hey so this was a dumb April Fools thing. Sorry about that. Blame Tracker.
Today on the last day of EGX Rezzed, Sega Europe has made a huge surprise announcement. And that announcement is that a new version of last gen's best Sonic game is coming to Nintendo Switch: Sonic & All-Stars Racing Transformed: Turbo Edition, not featuring Big the Cat!
The press release states that the game will run at 1080p and 60fps in docked mode, and 720p/60fps in portable mode. In addition to the characters in the original game, this new version will feature new characters such as Opa Opa from Fantasy Zone, Kazuma Kiryu from Yakuza 0, and Hatsune Miku from Project Diva Future Tone. The guest characters Wreck-It Ralph and Danica Patrick seem to be gone though, along with Big the Cat, who is not in this game.
You can find all of the screenshots along with a press release below. Sega also put out a teaser image with silhouettes of additional characters like Bayonetta. There's also this official website, which, strangely enough, does not feature Big the Cat.
"London—April 1st, 2017 As part of its presence at EGX Rezzed, SEGA Europe is proud to announce Sumo Digital have worked on an all-new, updated version of its popular racing title Sonic & All-Stars Racing Transformed, now entitled Sonic & All-Stars Racing Transformed: Turbo Edition. This updated version is being developed exclusively for the Nintendo Switch platform. This edition of the game will feature new characters, new tracks, tweaks to difficulty and certain mechanics, and a reworked single-player campaign. In addition, the game will boast a 1080p, 60fps output when docked (720p, 60fps in portable mode), and provides the full Sonic & All-Stars Racing Transformed experience on-the-go for the first time on consoles, complete with seamless multiplayer using the new JoyCon controllers.
"To this day, Sonic & All-Stars Racing Transformed has been a major seller for the Sonic series, and it's a testament to the brilliant work that Sumo Digital do," said Ivo Gerscovich, Chief Brand Officer of Sonic Pillar. "We think the Nintendo Switch is the perfect home for this title, and we look forward to people trying out all the new features and bonus content in this very special new edition."
Sonic & All-Stars Racing Transformed: Turbo Edition sees Sonic the Hedgehog and a plethora of other SEGA characters battling it out for the top spot across a slew of racetracks based on classic SEGA titles. Players will be able to get their hands on all kinds of items, such as Missiles, RC Drones, Snowballs! This updated edition introduces several characters making their debut in the All-Stars series, such as Kazuma Kiryu of YAKUZA 0 and Hatsune Miku of Hatsune Miku: PROJECT DIVA FUTURE TONE. Each character's personality shines through in each race, with their own custom vehicle and humorous animations. The tracks on offer are beautiful and crisp, taking full advantage of the Nintendo Switch hardware.
To stay up-to-date with all of the exciting upcoming news for Sonic the Hedgehog and all upcoming titles, follow Sonic on Twitter, Like him on Facebook, or subscribe to the Twitch channel. For the latest in the Sonic fashion and toy business, follow the Instagram account @SonicStyles. To view all the latest videos and trailers, please visit the official Sonic YouTube channel.
© SEGA. SEGA, the SEGA logo, SONIC & All-Stars Racing Transformed: Turbo Edition and other related game titles, logos, characters and character names appearing in the game are either registered trademarks or trademarks of SEGA Corporation or have been licensed to SEGA Corporation. Nintendo properties are trademarks of Nintendo. © 2017 Nintendo.
About SEGA® Europe Ltd.
SEGA Europe Ltd. is the European Distribution arm of Tokyo, Japan-based SEGA Games Co., Ltd., a worldwide leader in interactive entertainment both inside and outside the home. The company develops and distributes interactive entertainment software products for a variety of hardware platforms including PC, wireless devices, and those manufactured by Nintendo, Microsoft and Sony Computer Entertainment Europe. SEGA Europe's website is located at www.sega.co.uk ."