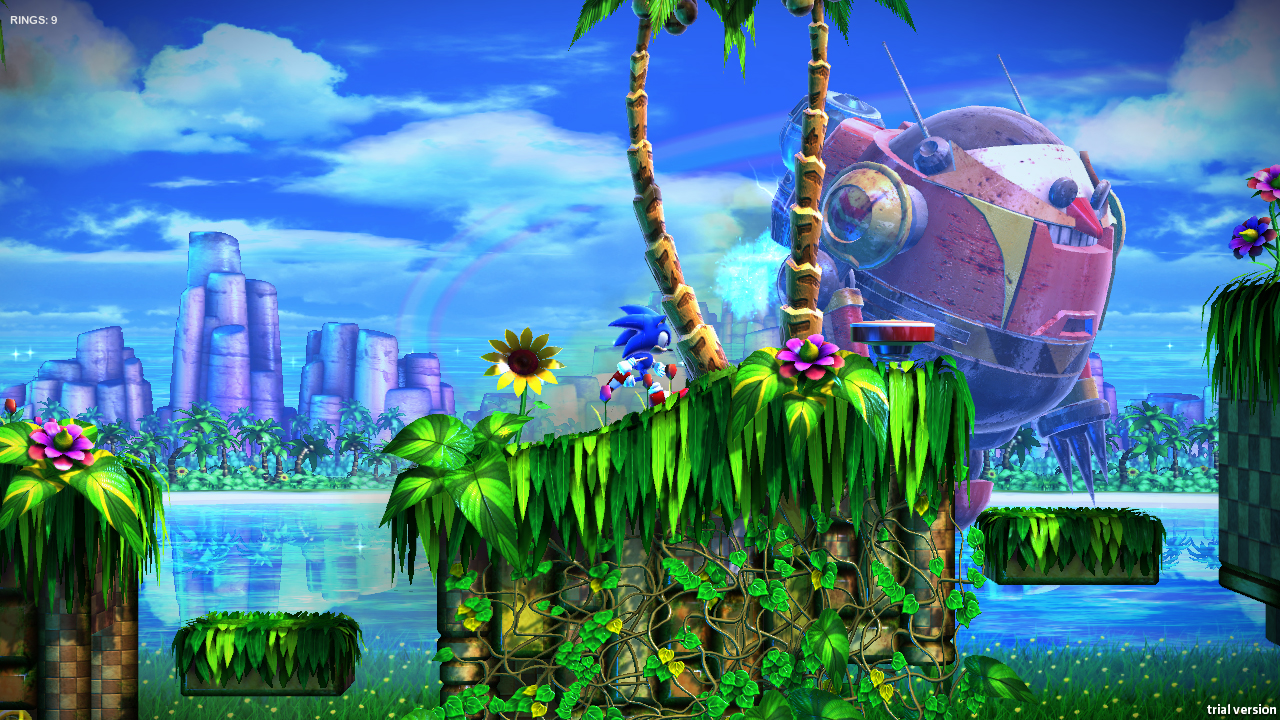 Pelikan and Mercury are no strangers to the gaming media spotlight, but now they've landed in print, an area where only a select group of fangamers have managed to show up.
In the same issue of GameInformer that features SEGA VP of Sales and Marketing Alan Pritchard being silly, you can find Dan Ryckert talking Sonic with two of Retro's most technically gifted members.  Dan hit the ground running with his setup and first question, immediately drawing the comparisons between Sonic Fan Remix and Sonic 4: Episode 1.  He noted that SFR is "visually superior" to Sonic 4 and asked them how they managed to outdo a major games studio.
Pelikan: "Sonic 4 and SFR have very different art styles and many people have complained about SFR's "busy" look, so comparing them is not simple."
Mercury: "I think that SFR succeeds where Sonic 4 fails because it's more surprising.  There are so many details you're not expecting to see, and that's what makes it more exciting."
Looks like somebody has massive nuts.  Hit the jump for more tidbits and a scan of the interview.
Dan asked about the duo's gaming aspirations, their personal favorites, but there are some more noteworthy questions.  I can tell you first hand from my time fan-gaming and speaking to others that their desire to create took a dive when Sonic 4/Project Needlemouse was announced, as most of us were doing it to fill the classic Sonic void.  Pelikan, too, had that feeling, saying, "When I heard that they were working on a 2D Sonic, I felt both excited as a Sonic fan and a bit disappointed.  I did consider stopping work on SFR at that point as I felt there might be no place for it."  Pelikan was working on SFR ten days prior to the Needlemouse announcement.
The beginning of Sonic's decline was also brought up by Dan, to which Mercury replied, "Sonic Adventure.  It took everything I loved about the series and threw it out." Pelikan concurred and stated, "I really enjoyed the game at the time.  Sega made some choices for Sonic from gameplay to visuals to voice acting that never clicked with me and seem to have stayed with Sonic ever since."  I won't argue here.
Since this is Sonic Retro, we have to say the word "physics" in every blog post.  Mercury, the game's programmer, fielded the question on Sonic's new physics by saying that "some changes made sense" in regards to altering jump height for the small screen of the Game Boy Advance for the Sonic Advance series.  He pinpoints Sonic Rush as the game where physics become less important, where rolling is gimped to "emphasize the boost move."  Mercury also finds Sonic's uncanny ability to walk through breakable objects "outrageous" and that the game is full of "mistakes or lazy design than intentional modifications."
When asked about any legal threats or praise from SEGA, Pelikan said that he nor Mercury have recieived any and that the game will remain freeware.
The full interview can be found in the scan here and the latest issue of GameInformer is available this month.  Pick it up to grab a piece of Sonic community history!
Congratulations on the feature, guys!