­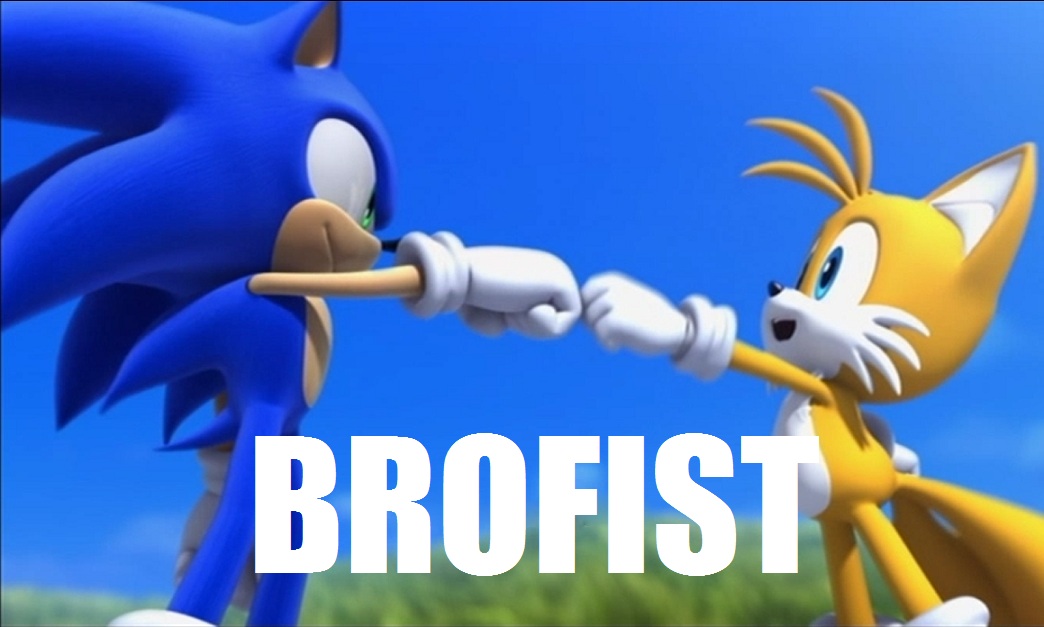 Sonic Adventure is a terrible game.  The sole reason I bought a Dreamcast has not aged well over the years, no matter how badly I want to overlook its many problems with memories.  Its shoddy programming, poor control, over-emphasis on speed, alternate modes of gameplay, pointless peripheral characters, voice acting and awkwardly epic storyline was the beginning of Sonic's decline.  The mistakes made in that game were so huge and panoptic that they managed to show up in every Sonic game for the next decade, sometimes landing a starring role. Along comes Sonic Colors, a game that finally strips away these issues, resulting in the first good game since the series went 3D.  Note that I said "good" and not "great."  The positive perception of Sonic Colors (and Sonic 4, too) has been built around what the game is not, rather than what the game is, resulting in glowing review scores and early celebrations of the hedgehog's "return" (seriously, how many times can Sonic be "back?").  Most of the fodder that has made Sonic an absolute joke is gone.  While it's good for it, Sonic Colors still decides to bring along fundamental design problems that people shouldn't be tolerating anymore. Sonic Team finally remembered that Sonic is a platformer.  It's not all about speed.  This aspect alone renders Sonic Colors as the best 3D Sonic game and a good game overall.  While speed and platforming rarely ever mix (it's always one or the other), the speed sections of the game serve as a reward for navigating a tricky section of moving platforms and traps.  The boost button remains, but you won't get away with spamming it like you could in previous games, which is a welcome change (removing it outright would be nice).  Sonic, speed-wise, operates at a much slower click, which allows for better control over previous 3D outings. "Better" control does not mean "great" control, however.  It is an improvement, but in a platformer, especially one at such high speeds, the controls and game engine have to be precise and well-crafted.  "Close enough" doesn't cut it.  Despite its enhancements, Sonic Colorsstill succumbs to the usual physics issues that have plagued modern Sonic.  The float at the top of Sonic's jump, strange inertia and his slow turn-around from left to right are the game's biggest offenders.
While 2D control is serviceable, the 3D control is still bush-league.  There are 3 kinds of 3D sequences in Sonic Colors: "free roam," "drift" and "quick step."  It's all split up to compensate for Sonic Team's inability to tightly control Sonic in the third dimension, a problem since Sonic R.  That extra axis of control just doesn't seem mix with the insane speed that the developers want it to operate at.  The best of the three, 3D sequences are the free roam areas, due to their lack of speed and emphasis on solid platforming or Wisp usage.  The other two don't fare well at all.  Drifting is about as good as it was in Sonic R, which is to say that Sonic controls like a tank, and Quick Step would be cool if shifting lanes were mapped to the shoulder buttons, but they aren't.  Thankfully, the game is only in 3D for about 30% of the time (ironic that a game that is mostly 2D is "the best 3D Sonic game," no?). I got used to the game's physics after a while, like I did to Sonic 4's, but platforming games that you have to "get used to" are flawed and no amount of excuses will apologize for it.  The point of a platformer is to run and jump.  That's all.  If you can't get it right, well then… you just fade away like Bubsy.  Falling into a bottomless pit as a result of the jumping mechanics was the only time I died in this game. My rare, yet similar, deaths led me to conclude that Sonic Colors is a pretty easy game.  You won't get killed by any of the enemies, because they just stand around, waiting for you to homing attack them so that you can cross a gap.  When will enemies actually try to prevent you from progressing in a Sonic game instead of helping you cross over hazards?  When will Sonic Team realize that bottomless pits do not equal difficulty?  When will awry homing attacks stop hurling me into said pits?  These are problems that have been in modern Sonic since Sonic Adventure and they're still here.  Why? Can I also ask why grinding still exists?  The game already plays itself on foot sometimes.  Do we really need these "on-rails" segments to literally be "on rails?"  Grinding hasn't been relevant since Sonic Adventure 2 and yet it keeps coming back.  Also, Sonic can run fast on his own.  Does he really need 3 speed boosters to get through a loop?  Oh, right, you're still using speed boosters to cover up your physics troubles, Sonic Team.  How silly of me to forget. The presence of decade-old issues is head-scratching, but Sonic Colors' level design is a whole different story.  The terrain is varied, wild and not based in "real" settings, freshening up old Sonic level tropes with new environments (water level's needed more pagodas, I tell you).  From bouncing on a hamburger, to flying through a lush, alien world, the terrain always feels fresh and is dictated by its surroundings, making level design varied and unique.  Planet Wisp is the highlight, focusing on towering, difficult platforming that is sure to please any fan. These praises start to vanish during Aquarium Park and vanish entirely in Asteroid Coaster, though.  While Aquarium Park's theme is great, the level design boils down to giant pools of water.  Since Sonic can swim now, it makes it all the lamer.  Asteroid Coaster suffers from "same old shit" by relying too much on spectacle and gimmick levels.  All of that clever level design just… dies.  Asteroid Coaster comes as a letdown, as it's not difficult or intriguing in the least.  Terminal Velocity, the last level of the game, is a snooze-fest. Keeping things interesting are the Wisps, little aliens that bring power-ups back to the Sonic series.  I don't really have much to say about these guys.  They do what the announcer says they'll do and they work as they should.  It makes for more variety and crazy fun, especially if you're tearing ass up the side of a tower with the spikes. While you're tearing said ass, please, take in the scenery.  The graphics are some of the best on Wii and really illustrate what third parties can do if they actually put some effort into their games.  I would like to see Sonic Colors run at 60 frames-per-second, instead of 30, but it doesn't make it any less playable.  The soundtrack is fantastic as well, ranging from orchestral bombasts to hard rock.  Like a Sonic game's level design, the soundtrack should be unique from stage to stage, creating a set list that's an eclectic blend of musical genres.  Sonic Colors definitely delivers here.  SEGA needs to stop soliciting these awful bands, though.  Cash Cash joins the likes of Zebrahead and Runblebeein the Butt-Rock Hall of Fame (Presented by Crush 40 & Pizza Hut).
As mentioned before, Colors did away with the goofy stories and worthless secondary characters for this game and benefits from it.  The light-hearted, tongue-in-cheek approach to the story has been missing from Sonic for a while.  When you see a game not take itself too seriously and pull it off with an endearing charm, you tend to put up with some of its shortcomings to a degree. The new voice actors are the best yet.  While you could say that they benefit from having better writing and better direction, they are talented in their own rights.  Roger Craig Smith brings back the unabashed arrogance Sonic has been lacking since he started speaking in games and Kate Higgins makes Tails sound not like a girl.  Mike Pollock has always been a treat and you can hear him having a lot of fun with his performance. There's a multiplayer mode in here to talk about, too, but it sucks.  So… yeah.  Don't bother with it (unless you want the super secret surprise). When you get done playing the story mode in Colors, you'll notice that it didn't take long.  I finished the story mode in about 5 hours.  In terms of replayability, the game has new paths, sights to see and red rings to collect when you play them again with your new Wisp abilities.  While a nice effort, it won't take experienced gamers long to beat the game outright.  I've got all S-Ranks and red rings and I did it from playing a little bit over the course of 2 weeks, clocking in at around 13 hours.  It's a short game, but it's better than a long game padded out by guns and telekinetic powers. Sonic Colors is not the best Sonic game ever made, no matter how much Iizuka wants to think that, but it is still a good game with all of its many faults.  They finally listened to critics and got rid of all of the stupid crap around Sonic and made a few improvements here and there, but they forgot to get rid of the stupid crap within Sonic's gameplay that has consistently been there since Sonic Adventure.  I will say that I was having fun with this game up until the mid-point of Aquarium Park (which is a good chunk of the game), but to see the same mistakes get made once more is frustrating and holds Colors back from elite status. If SEGA and Sonic Team want to create instant classics again, they need to get their priorities in line.  No more swords and werehogs is a great thing, but perfect control and consistent creativity is better.  That goes for any of their Sonic games, not just Colors. "Beer Wisp" for Sonic Colors 2.
Second Opinion by GeneHF
You're on your way, Sonic. After years of continual slip-ups and horrible ideas with terrible execution, Sonic Team have put out a Sonic game that "gets it," but not without flaws. The use of Wisps, granting Sonic new temporary abilities, enhance the 2D sections of the game quite nicely, adding a stronger focus of exploration to stages for alternate paths or secret items. One thing I found especially good about this approach is that players were actually punished for running through the stages Sonic Unleashed style in their end-stage rank instead of calmly progressing through the stages. However, the game hits a few snags with familiar problems in platforming, especially with how Sonic's jump handles. Often, you'll find yourself unsure if you'll make a jump or not and either miss or fall into a bottomless pit. Though Sonic now has a slight double jump, the double jump doesn't necessarily carry the momentum from the first jump, which can cause problems. Sonic's drifting and sidestepping also feels odd, especially with the decision to keep side stepping locked to the control stick instead of shoulder button on the GameCube and Classic Controller pads. Another snag is the real lack of variety in bosses. Instead of designing unique bosses for each of the zones in the game, Sonic Team opted to create four and recycle three with small tweaks to try and make them a little different. It just came off as lazy. The game's strongest suit is its presentation. There are amazing visual cues, such as the Starlight Carnival level, that you'd expect only from a Nintendo-made game. The soundtrack is also on point, giving some music that is catchy and fits their respective stages, as well as strong voice acting, even if the script can be a little head-scratchingly cheesy at times. Do make sure to check out Eggman's announce clips online. There's fantastic material there. Overall, the game is a definite step in the right direction for the struggling franchise. The adventure is a bit on the short side.  In this case, that's hardly a bad thing at all with the bonuses and the 21-stage co-op and versus local multiplayer mode included in this package.