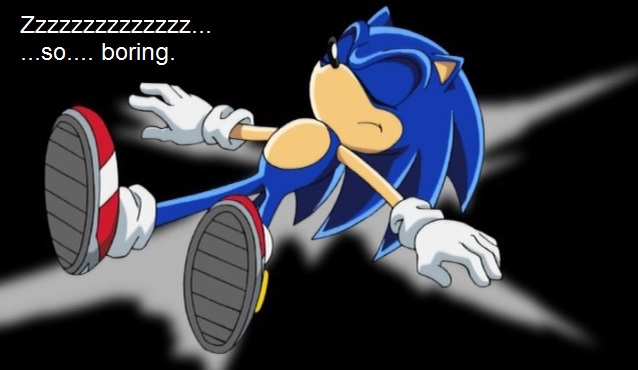 There is this myth that is perpetuated by the mainstream gaming media that if a Sonic game is in 2D, it's automatically good.  Scarred Sun tackled this misconception back in August in response to Sonic Team's director, Takashi Iizuka, buying into this fallacy in order to cover for his failures and bad decision-making.  2D is simply a cosmetic preference and whether or not a Sonic game is good boils down to it being well-executed, something everybody has forgotten in Sonic's second decade. Sonic Rush and Sonic Rush Adventure have been the recent success stories in the franchise.  They've been benefiting from the "2D bump," however.  I'm going to preempt the rest of my review for Sonic Colors (aka "Sonic Rush 3") by saying that I don't care for either of them.  They're boring.  Before you leave yet another stupid comment saying, "oh it's not classic Sonic, so that's why you hate it," please stop.  I treat those two games differently, because they do not play like the classics, nor do they profess to be them.  They left the latter to Sonic 4.  (*zing*) Sonic Rush and Sonic Rush Adventureis more about speed and racing, keeping platforming to a minimum.  That's not the reason they're boring though:
Both games have the exact same level design in every level with just a few, over-used gimmicks differentiating them.
They're criminally short and don't have a lot of reasons to replay them.  I beat both in one sitting and never felt compelled to play them again.
They're not difficult.  Enemies are boost/homing attack targets.  Random bottomless pits or instant kill obstacles are the only thing standing in your way.
Sonic Colors on the DS does all of these things, somehow managing to be more boring, shorter and easier. If you don't know what I'm getting at in terms of the level design, here's a handy diagram that I've made:

Sonic Colors does nothing different here.  It's a soulless, paint-by-numbers affair with aliens.  All of the levels, just like all of the levels in Sonic Rush, Sonic Rush Adventure and Sonic 4, are over-populated with springs, boosters and gimmicks.  The terrain all looks the same and consists of quarter-circle embankments, half-pipes, loops and bottomless pits.  We get it, Dimps, you like to have Sonic run up and down walls and ceilings (oh my effin' gawd CEILING RUNNING what an improvement).  Can we get some varied terrain that isn't arbitrarily placed around gimmicks and spectacle, please?  I know it's a game that is more about speed than platforming, but I think the "Rush" gameplay would be infinitely better if they changed it up each level.  It's wearisome when the jungle level plays like the factory level, which plays like the space level. The Wisps are the game's attempt at variety, but they're under-utilized.  You basically run really fast and then hit a wall where a large sign tells you to use your powers.  That's it.  Most times, you don't even need the Wisp powers.  You can play the game with just the boost for the most part and only whip out your alien pals to get the red rings in subsequent playthroughs. There are a few ham-fisted attempts at platforming, but the Rush engine isn't built for it.  If you're used to the physics already, it's not an issue.  Newcomers will have to get used to the weird, weighty jumping like the rest of us have.  Why do Sonic games have to be such a chore in this generation?  That said, most times, you'll spam homing attack to get across pits.  There are so few areas of platforming, you'll wonder why they're even in there in the first place.  These sequences feel as if they don't belong.
Not once in a level will you be wholly challenged.  It'll just be that "one little part" that holds you back and, in typical Dimps fashion, it's usually at the end of a level.  When you're blasting through a level without problem, these moments are incredibly frustrating and exemplify bad design.  Once you learn how to overcome that "one little part," though, the level is done, but come on, Dimps… don't encourage hyper-fast gameplay and suddenly pull the rug out from under the player! Sonic's abilities also contribute to the game's ease.  He can boost through anything, he can homing attack enemies and springs and just annihilate everything in his path with the new, destructive Wisp powers.  There's no fun in that.  Sonic's powers (homing attack and boost) need to be dramatically scaled back to make this franchise truly fun again.  Relegate them to a shield or something, I don't care.  Nobody wants to play a game where you can dominate everything.  Those moves remove all of the challenge (what little there is) in the game. Boss fights, like the Wii version, are fun the first time around.  Once they start to repeat, like the Wii version, it gets uninteresting and tedious.  All of the bosses are pushovers, as big, blinking arrows direct you to the enemy's weak spot.  I was hoping the final boss would be as challenging as the Wii version's, but it was a letdown, too. The game features two missions on each planet to artificially pad the game.  They're as easy as the Wisp tutorials.  The secondary characters that regrettably return also remind you to play the regular levels over again to find new stuff, as if Dimps knew their game was too short and easy.  Collecting red rings in Colors is like collecting special rings in Sonic Advance 2, which is a pain.  The game is moving too damn fast to explore anything.  Most times, I didn't even know that I collected anything, but I did.
What did impress me is how well they translated the game's presentation to a handheld.  The console's orchestral numbers are here, streaming with lush quality, and the level music sounds great, too, despite using DS-quality samples.  The levels look exactly like their Wii counterparts and the planet's level select maps are brimming with personality.  Some of the CGI cutscenes make their way over to the DS as well with stunning quality.  Usually, many artifacts litter the screen due to compression, but that isn't a problem here. The in-game cutscenes can be skipped, though.  It's just text and pictures on a screen with the same music playing in the background each time.  Yawn. The one thing game does better than the Wii version is the multiplayer.  You can play local with just one cart as you race your friends to the end.  Wi-Fi is available as well, allowing you to race Sonic fans across the world.  It's a great addition, but if you don't have Wi-Fi or friends with DSes, it'll do little to convince you that this game it worth its current $30 price tag. Aside from presentation and bosses, the DS game is the polar opposite of the Wii version.  While I could be inclined to say that they complement each other in that one is more platforming and the other is entirely speed, they don't.  The DS game is boring, while the Wii version is enjoyable to a degree.  The DS version is well past inferior and is an obvious cash-in.  These "Rush" games need a kick in the ass next time around, because Sonic Colors illustrates that these games are getting stale realfast.
Second Opinion by GeneHF
The DS is about due for another Sonic platforming game and with two successes in Sonic Rush and Sonic Rush Adventure, Sonic Colors aims to continue the tradition. Unfortunately, it comes with some stumbles. Let's get one thing clear: the DS version is the clear inferior version of the two games. A lot of the charm the Wii version gives characters is removed to keep  the story as simplistic as possible. That said, this doesn't make it any less of a good game.  It's hollow, in comparison. From the get-go, this game screams Sonic Rush in level design and use of the boost button. It doesn't begin to truly become Sonic Colors until the Wisps begin to come into play. Their involvement changes the game enough to allow much more exploration of the stages instead of the boost-to-the-end style that the past two Rush games held. While the game also contains its own bosses different from the Wii version, it also incorporates extra missions given by some of the other characters in the series. Some of these are particularly brutal at first but become simpler as wisp powers unlock. Mastering these missions helps master the main stages, as the most efficient paths in these missions are usually where the red rings are hidden in the main stages. The music quality in this version is strong, sounding closely to its console counterpart. Voice acting is minimal as a large amount of the cutscenes are static images with small clips. One thing that irked me is the insistence of reusing the same song through a large chunk of these scenes, as that too came off as lazy. One thing to give the DS version credit for is its much more extensive multiplayer mode, which lets players race each other within the stages on local Wi-Fi or through the Nintendo Wi-Fi Connection. One improvement from Sonic Rush Adventure is the addition of attack items designed to hinder the other player, in case they get too far ahead. The mode's definitely a blast to play, feeling similar to the two player mode within Sonic 2. While the DS version isn't quite as charming as its Wii counterpart, the game is still very much entertaining to play and certainly a solid followup to the last two Rush games.