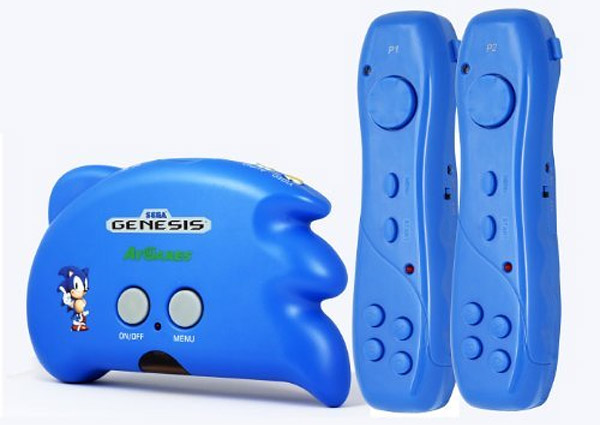 You've probably seen one of these knock-off mini-Genesis' at a Toys-R-Us or mall kiosk at some point in your life.  I'm damn sure you ain't seen some shit like this here.  Right here, we've got the "Atgames Motion Controlled Mini-Genesis Console," some sort of Wii/Genesis hybrid, featuring motion controlled games and an SD card slot.  It's also shaped like Sonic's motherfudgin' head.  Coming in at $35, it might be worth a look, but I'm probably going to make fun of it because it's an Atgames piece of shit.
Check out its many features (12/15 UPDATE: and a video!) past the jump.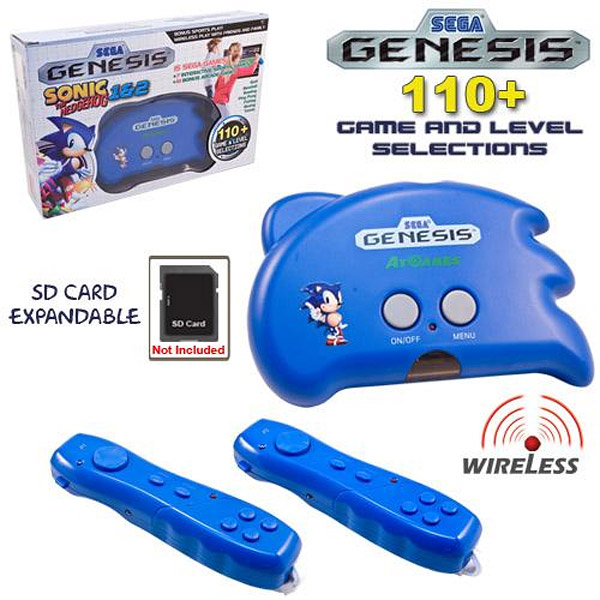 As you can see by this image, you get 110+ games with this package.  That's a straight-up lie.  You really get 40.  The other 70 games are Genesis games broken up into a "level select" kind of list.  For example, you get Sonic the Hedgehog in full, but then this console lists "Green Hill Plus" (which is acts 1 & 2) and "Green Hill 3" as separate games.  Why would you need to pad the console in this manner?  That's mad stupid.
If you've played any of the thousand Genesis compilations out there, you probably have a good idea of which classics you are going to get.  BUT WAIT!  THERE'S MORE!  This console has the word "motion" in the title, so there has to be a catch here.  Out of the 40 games, you only get 15 Genesis games.  The other 25 are "interactive sports games" and "arcade" games, featuring modern classics like "Joy of Ping Pong" and "Mr. Balls." *snicker* Really?  The box has the Genesis logo and Sonic everywhere and the "other" games outnumber the Genesis ones?  They've got the whole "misleading" thing down pat!
For a full list of the games you're getting here, check this list from the Sega-16 forums.  It's the second list (not the arcade stick one).
Atgames is no stranger to these knock-off consoles.  Some of their previous Genesis plug-and-play consoles allowed you to use your Genesis cartridge, in addition to coming with games built-in.  They're pretty fucking terrible, with the sound emulation being the absolute worst part about them.  I've asked a few people about this new motion iteration and they say that it's no different here.  If you thought some Genesis music was bad before, just wait until you hear it through an Atgames plug-and-play console.  It's Jun's dying cats times 100.
One cool addition is the SD card slot.  You can download awful games to it, but you can put your BIN files on it, too.  Yeah, forget all the built-in games.  Just load an SD card full of Genesis ROMs and you're good to go.  A few people told me that the emulation is all around better if you use a BIN file, which renders the whole package pretty much worthless if you've got an SD card.  (Oh, and Sonic Retro doesn't condone emulation or some shit like that.)
Like I said, it's $35.  The reason I even put this crap up is because I saw it at Walgreens for $30 while picking up a prescription and said, "Wow, this must be terrible.  I should write about it because I like writing about terrible things."  It's an expensive, glorified (and shittier) Gens for your TV.  If you've ever received one of these things or (gasp) bought one, tell us about your experience in the comments below.
Everybody knows that the only good plug-and-play console is NHL '95 anyway.
[via SEGA-16 Forums]
12/15 Update: Chimpo has uploaded some footage to YouTube of the console. Watch a snowboarding game and Sonic 2 with awful sound: