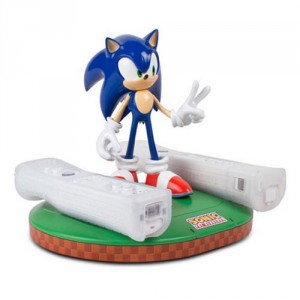 Did you get money from your grandparents in those no-B.S. money cards this past weekend?  Well, if you've got about $50 worth, you can get yourself a Sonic figurine that doubles as a charge station for two of your Wii remotes.  This functional collectible by MadCatz is available for online order and should be hitting store shelves soon, falling right in line with MadCatz's line of Sonic accessories set to come out for Sonic's 20th anniversary.
Supplies are limited, so if you want it now, you better get it now.
[via Coolest Gadgets]
Also, no Monday Links today or next Monday.  Thanks to Christmas and New Years, there isn't enough going on in the forums or at SEGA to warrant them.