Usually, we feature the best of eBay's "knock-off" merchandise here, but there's official stuff up for auction that still manages to be ridiculous.
Sonic Colors Hat – Bidding ends Nov 24th at 11:59 PST
If you weren't able to pre-order the game or weren't on the Colors bandwagon during the offer, there are many of these hats up on eBay.  We think that you should buy this particular one, though.  It is modeled by your average, everyday Sonic fan.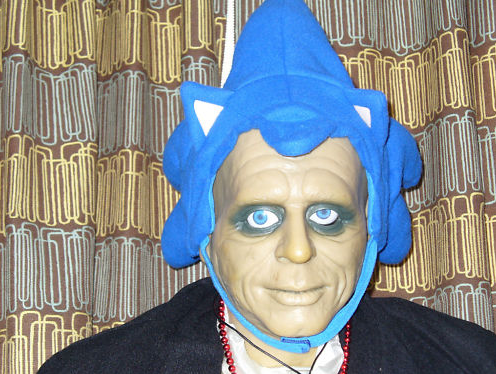 Sonic Clock – Bidding ends Nov 21, 2010 at 12:44 PST
You remember Sammybeany.  He wrote some stuff about the SOA Community Event and then everybody pooped their pants.  Well, he "won a fucking clock" and is selling it.  Here's what he has to say:
It's in brand new condition.  I must admit, it doesn't feel or look overly cheap, despite being a pretty basic plastic clock.  It runs on a single AA battery.  There's not much else to be said, although you're welcome to ask whatever questions you might have.  It could make a great Christmas present for someone who likes mediocre video games and washed-up video game heroes, I guess!

As a thrilling bonus, I'll include the contents of my "goodie bag" from the event.  Heck, I'll even include the bag itself!  There's a little inflatable Phantasy Star thing (apparently called a Rappy?), a set of pins advertising Valkyria II, and a pretty nice quality Sega sticker.  The bag is a plain blue with a second Sega sticker slapped on it.

All proceeds from this auction go directly to charity. Wikipedia, to be exact.  I'm sure the foundation behind that ubiquitous online encyclopedia has improved your life just as much as it has improved mine, so I figure it's a worthy, relevant cause.
Best description ever.
Are you really getting a copy of Sonic 2 here?  The item's image tells a different story.

Obviously, we haven't found all there is to find in Sonic 2, as there clearly is a level in the game consisting entirely of realistic looking flowers.