SEGA has been pulling a myriad of publicity stunts and special events in the past year or two.  They've ranged from Twitter/forum trivia contests to ice skating to buying all four versions of a game.  Their latest one being put on in England is the strangest of them all: a hedgehog crossing.
According to The Daily Mail, the hedgehog population has been in steep decline in Britain over the last decade.  The estimated drop in population is 300,000, with around 50,000 dying each year on the busy streets.  In addition to being roadkill, farming has been slowly destroying the habitats of the hedgehog.  The People's Trust of Endangered Species is working on keeping the hedgehog afloat.  SEGA, having an extensive knowledge of driving a hedgehog into the ground over a ten year period, is ready to help to coincide with the launch of Sonic Colo(u)rs.
To bring attention to the hedgehog, SEGA set up a hedgehog crossing on a street in Twickenham, London, stopping traffic so that four hedgehogs could safely cross.  "Our hedgehogs had great fun ruling the roads for the day with the hedgehog crossing and it will hopefully encourage everyone to do their bit in helping the hedgehogs of Britain stick around for years to come," said the animals' handler, Trevor Smith.  The goal is to make drivers more aware of their spiky pals crossing the road on their everyday drives.  Oh, and to make people buy Sonic Colo(u)rs, I guess.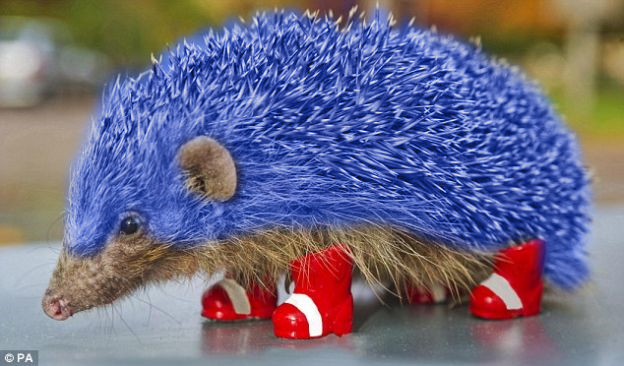 Lowering the amount of road casualties is a start, but David Wembridge of the People's Trust for Endagered Species offers more ways to improve the hedgehog's population numbers.  "We are trying to encourage farmers to get involved in conservation schemes and encouraging gardeners to set aside undisturbed areas such as compost heaps or wood piles where hedgehogs can thrive."
Definitely a great cause here, but what's next for SEGA PR?  Could it get stranger?  I don't even know where you could go from here.
[via 1UP]